College Ready. Career Ready. Life Ready.
Return to Headlines
High school students can earn college degree under new Middlesex County program
6 February 2023 · Joseph Bakes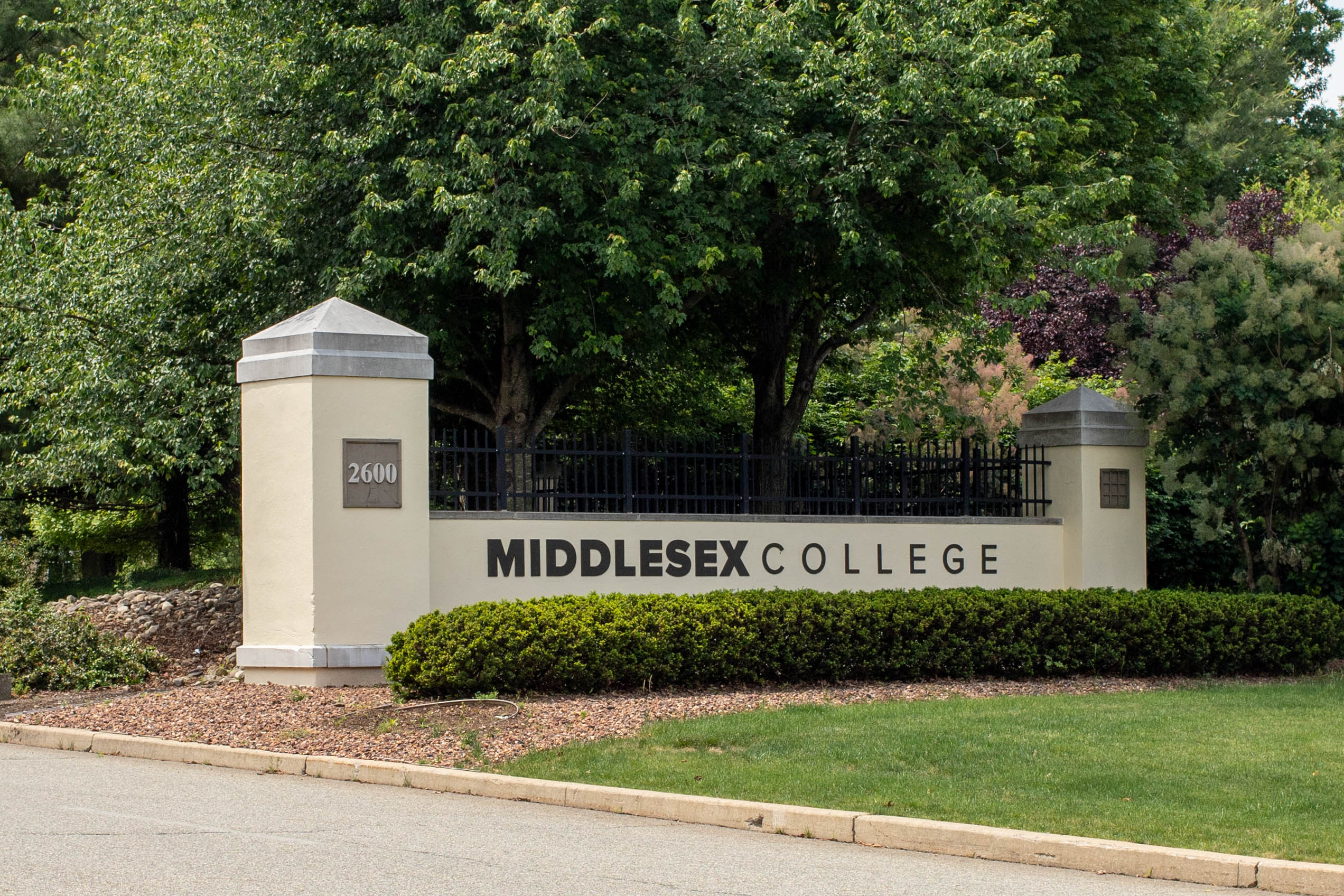 A program launched by Middlesex College and the Middlesex County Magnet Schools will enable students to obtain an associate degree while still in high school.
"It's a great benefit to the students," said Linda Scherr, Middlesex College Vice President for Academic Affairs. "They can graduate high school and be halfway to a bachelor's degree."
"This is a very innovative initiative that will greatly benefit our students," said Jorge E. Diaz, Magnet Schools Superintendent. "It adds to our roster of articulation agreements that allow our students in all career majors to obtain college credits and employment credentials while still in high school."
Mark McCormick, President of Middlesex College, said the program will save money and time for the students, and it offers another important feature: increased success.
"Our data show that students who take Dual Enrollment classes have a higher retention and success rate in college than students who do not," he said.
Several students at the county's Edison Academy Magnet School, which is on the Middlesex College Campus, are on track to earn their associate degree before they graduate in June, Scherr said.
The program – called the Dual Degree Pathway – is also available to students at the Woodbridge Academy Magnet School.
Students must complete at least 15 credits on the Middlesex College campus or virtually through the college, at the High School Scholars reduced tuition rate -- currently $125 for any three- or four-credit course. Combined with AP credit and dual-enrollment courses taken at the Magnet Schools, they can reach the 60 credits necessary for an associate degree.
The special High School Scholars tuition rate applies to courses taken at Middlesex College by students currently enrolled in high school anytime and anywhere, including at their high school, at any of the college's locations, in Edison, New Brunswick, and Perth Amboy, and online. Middlesex College offers courses during the day, evening, and on Saturdays. College courses also may be taken over the summer.
Magnet Schools Assistant Superintendent Jeffrey Bicsko said the program was introduced to parents of prospective students at information sessions for the Edison Academy Magnet School – where students major in engineering – and for the Woodbridge Academy Magnet School – where the students major in health and biomedical sciences.
"Parents were very excited about this," Scherr said.
"This is a new initiative for us, and we're very excited about it," Bicsko said. "It's a cost benefit for the students."
The program will reduce the tuition students will have to pay for their four-year bachelor's degree at all state colleges, including Rutgers and NJIT, which draw many Magnet School students, and a number of private colleges in New Jersey.
The two Middlesex County academies are consistently rated among the Top 10 public high schools in New Jersey. Both are National Blue Ribbon Schools of Excellence.
The application deadline has passed for the Class of 2027 at the two academies, with about 500 eighth-graders taking the entrance exam for 44 spots at the Edison Academy and about 350 testing for 75 spots at the Woodbridge Academy. Interviews with prospective students and their parents will follow.
Middlesex County has unveiled a Community, Innovation, and Opportunity Strategic Investment Plan that will greatly enhance the Middlesex College campus, adding the Magnet School of the Future as well as an open-air multipurpose venue for concerts, cultural events, and multiple sports, a workforce development and conference center, a new community park, and a new student center, among other features.
The Middlesex County Magnet Schools, formerly the Middlesex County Vocational and Technical Schools, the first full-time county vocational school district in the nation, also has campuses in East Brunswick, Perth Amboy and Piscataway, offering 34 career majors.
About Middlesex County Magnet Schools
Middlesex County Magnet Schools enroll approximately 2,000 high school students and more than 7,000 adults annually. Established in 1914 by the Middlesex County Board of County Commissioners, the district fulfills an essential need for free occupational training across the State of New Jersey. Students in the district attend classes on campuses situated in five Middlesex County municipalities: East Brunswick, Edison, Perth Amboy, Piscataway, and Woodbridge.

Follow the district online @mcmagnetschools:
Facebook · Twitter · Instagram · LinkedIn · YouTube