College Ready. Career Ready. Life Ready.
Return to Headlines
Magnet School students display their knowledge and talent in annual Tech Expo
1 March 2023 · Joseph Bakes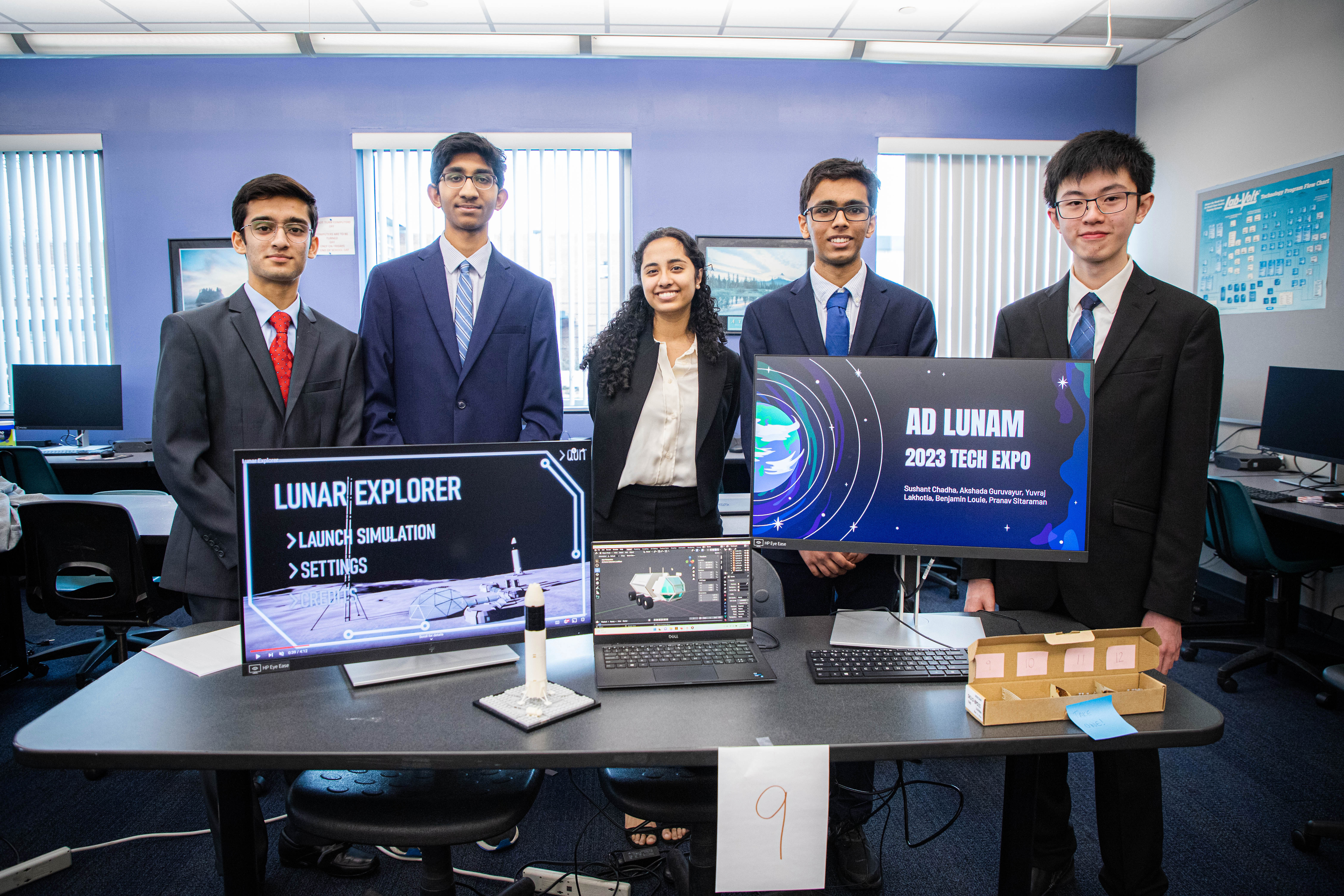 Ad Lunam team from the Edison Academy Magnet School with designs of their creation. Isaiah Gomez/Middlesex County Magnet Schools
About 250 Middlesex County Magnet Schools students on all five campuses competed in the annual Tech Expo in observance of Career and Technical Education Month in February.
The presentations ranged from the design of a moon rover for NASA to the layout and menu for a restaurant serving Latin cuisine.
Among guests attending were Middlesex County Commissioner Director Ronald G. Rios and Commissioner Charles Kenny, Magnet Schools Board of Education President Keith Jones II and Vice President Laura Czarneski, and Magnet Schools Superintendent Jorge E. Diaz.
"The creativity and ingenuity of our students is inspiring," Diaz said. "They embrace Tech Expo as a showcase for the talent that will bring them great success in the future. I salute the competitors and their teachers."
Judges included Greg Hancox of the International Alliance of Theatrical Stage Employees; Jon Miller and Glenn Best of New Jersey Pathways to Career Opportunities; Dr. Tom Leustak, dean of academic programs at the Rutgers University Schools of Environmental and Biological Sciences; Sandra Bottoni of the Middlesex County Office of Career Opportunity; Stephanie Staub of the New Jersey Council of Community Colleges; Middlesex County Clerk Nancy Pinkin; Christopher Reid of Solar Landscape; Joan Kartelias and Tina Brigino of the Middlesex County Human Resources Department; Linda Scherr, vice president for academic affairs of Middlesex College and Donna Howell, acting dean of business, STEM and health professions of Middlesex College.
The competition was supervised by Lee Neamand, Magnet Schools director of career and technical education, and Adam Recktenwald, supervisor of CTE.
Many of the presentations featured collaborations among different career majors and even different campuses, as well as input from mentoring professionals and Magnet Schools alumni. Use of artificial intelligence and 3D printers figured in several presentations.
At the Woodbridge Academy Magnet School, which specializes in bio-medical and health careers, first place went to the Mighty Chandrias, who presented about the dangers of sepsis. Second place went to the Cardiac Crew, on antihypertensives; and third were the Knockouts, on anesthesiologists.
Over at the Edison Academy Magnet School, where students major in engineering, there was a first-place tie between Ad Lunam, the lunar rover, and MC Green, a robot developed to teach about ecology, which was a collaboration with the Middlesex County Improvement Authority and pre-engineering students on the East Brunswick Campus.
At Perth Amboy Magnet School, first place went to Electrical Technology with "We Will Shock You"; second was Culinary for "Latin Kitchen," and third was Computer Systems Technology for "The Established."
At Piscataway Magnet School, first place was awarded to Health Technology for "The Travelers"; second, Health Careers for "Better Health/Better You," and third, Construction Trades/Carpentry for "The Green Energizers."
At East Brunswick Magnet School, first went to Cosmetology and Graphic Design/Commercial Art and Illustration for "Team Magazine"; second, AgriScience for "Members of the Corn," and third, Multimedia Art and Digital Design for "Vets and Pets."
About Middlesex County Magnet Schools
Middlesex County Magnet Schools enroll approximately 2,000 high school students and more than 7,000 adults annually. Established in 1914 by the Middlesex County Board of County Commissioners, the district fulfills an essential need for free occupational training across the State of New Jersey. Students in the district attend classes on campuses situated in five Middlesex County municipalities: East Brunswick, Edison, Perth Amboy, Piscataway, and Woodbridge.

Follow the district online @mcmagnetschools:
Facebook · Twitter · Instagram · LinkedIn · YouTube