Return to Headlines
East Brunswick student earns national recognition for academic excellence
20 September 2023 · Eshaya Draper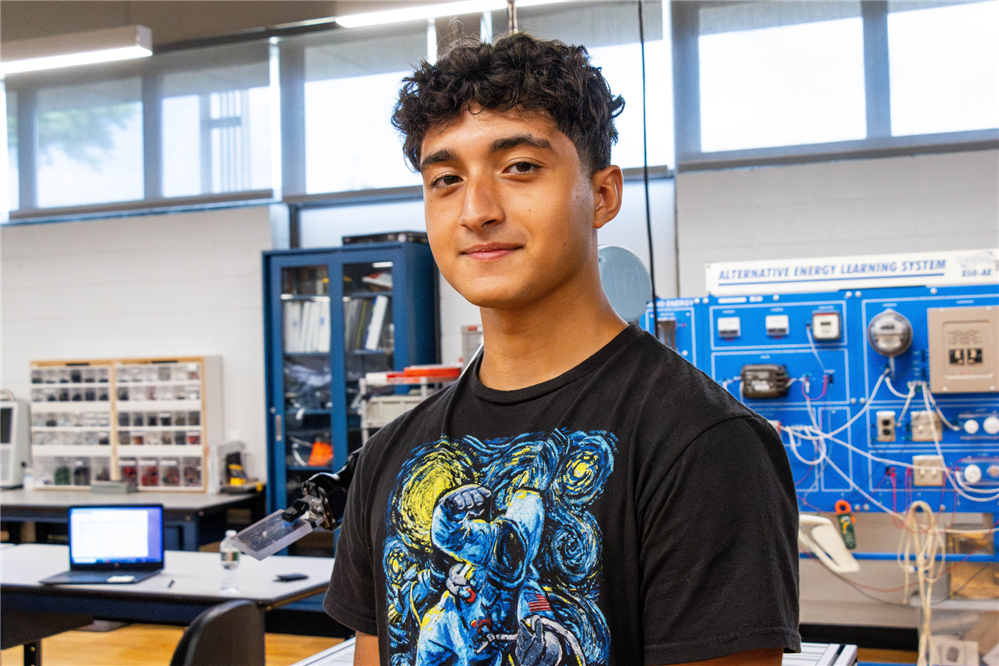 Awards recognize high-performing students while distinguishing them for college consideration. Isaiah Gomez/Middlesex County Magnet Schools
With an incredible start to the brand-new school year, The College Board has honored Matteo Graffeo-Seda, an outstanding East Brunswick Magnet School student, for achieving academic excellence. Matteo is among the 72,000 students nationwide who have been recognized by the College Board's National Recognition Programs, a prestigious accolade celebrating the academic achievements of underrepresented students.
Matteo received the National Hispanic Recognition Award, a testament to his dedication and hard work throughout high school. This recognition highlights the significance of these programs in providing a platform for students like Matteo to showcase their talents and achievements.
The National Recognition Programs were established to acknowledge the outstanding accomplishments of students who may only sometimes receive the recognition they deserve. These programs benefit the students and assist colleges and universities in identifying and recruiting diverse and highly talented individuals.
Students eligible for these programs must meet specific criteria, including having a GPA of 3.5 or higher. They must also rank in the top 10% of PSAT/NMSQT® or PSAT™ 10 assessment takers in their respective states for each program. Alternatively, they can earn a score of 3 or higher on two or more AP® Exams. Eligible students must attend school in a rural area or small town or identify as African American/Black, Hispanic/Latino, or Indigenous/Native. The application process begins during their sophomore or junior year, with award notifications sent out at the start of the following school year.
Matteo's success reminds us of our educational system's incredible diversity and talent. These recognition programs offer a valuable opportunity for students to share their hard-earned accomplishments with colleges and scholarship providers actively seeking to diversify their student bodies.
Tarlin Ray, senior vice president of BigFuture® at College Board, commented on the significance of these programs, stating, "It's becoming increasingly hard for students to be 'seen' during the college recruitment process. We're exceptionally proud of the National Recognition Programs for celebrating students who are at times overlooked but have shown their outstanding academic abilities. This is a benefit not only for students but also for colleges and universities committed to recruiting diverse and talented students."
In recognizing Matteo's accomplishments, the College Board and the East Brunswick Magnet School celebrate not only an exceptional individual but also the potential that lies within all students.
Congratulations, Matteo, on this well-deserved honor!
---
Follow Middlesex County Magnet Schools online @mcmagnetschools:
Facebook · Twitter · Instagram · LinkedIn · YouTube