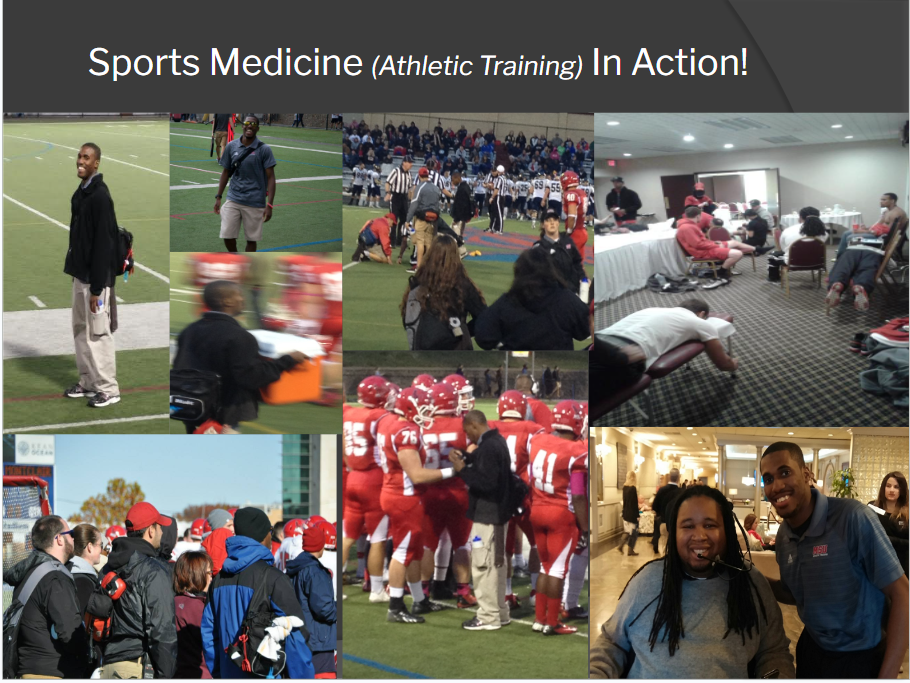 Phone: 732-985-0717 ext. 2110
Email:
Degrees and Certifications:
Masters in Education Bachelors of Athletic Training Certified Athletic Trainer Licensed Athletic Trainer CPR/AED/First Aid Certification Variety of Health, Wellness & Fitness Related Certifications
Mr.

Antoine Joyner, M.Ed, LAT, ATC

Greetings!

My name is Antoine Joyner and my mission is to empower others to recognize their personal "why". I am driven to serve others, to discover their personal "why" through the dynamic connection between body, soul & spirit.

I am a multi-dimensional sports medicine professional who applies my background to invest, influence & inspire others to succeed. I have had interactions with multi-level athletes, clients & participants from teenage to older-aged adults. My educational background as a Certified & Licensed Athletic Trainer allows me to encapsulate knowledge of the prevention, recognition, assessment, treatment and rehabilitation of sport & activity related injuries.

I am passionate about developing this revolutionary Physical Therapy & Exercise Science (Sports Medicine) Program. The primary focus is to develop an educationally enhancing, uplifting & thriving atmosphere for all to advance into a promising career and/or be prepared for higher education. Ultimately, I am overjoyed to have the privilege of teaching students here at Piscataway Magnet School about this incredible creation we exist inside of every day - our own human body!

I have various years of experience derived from a combination of diverse settings, including:
- College (Division III)
- High Schools
- Membership-based Studios/Private Fitness Clubs
- Martial Arts Dojo
- Chiropractic Care Centers
- Physical Therapy Clinics/Orthopedic Medicine Clinics
- Durable Medical Equipment Companies
- Industrial & Occupational Companies
- Primary & Secondary School Education

Educational Qualifications:

Masters of Education (Physical Education) - Manhattanville College
Graduated Summa Cum Laude - August 2019

Bachelor of Science in Athletic Training - Montclair State University Graduated Cum Laude - January 2016

Professional Qualifications:

Athletic Trainer Certified & NJ State Licensed: June 2016 - Present
Current/Previously Held Certs: CPR/AED Professional Rescuer, TRX Suspension Training, Group Exercise Instructor, Personal Trainer, etc.