Aashritha Kandagatta

Aashritha is a mechanical engineering student at the Edison Academy Magnet School. She plans to study Finance and Business Analytics at Indiana University's Kelley School of Business in the fall, hoping to one day work in the business side of the music industry. She is a passionate pasta-lover, song-writer, and reader. Aashritha is involved in multiple clubs, from Future Business Leaders of America to Junior State of America. This year, she works as her school yearbook's Editor in Chief. She hopes to continue to aid her community in any way possible, through college and beyond.

Arush Misra

Arush Mishra is a senior at the Edison Academy Magnet School who has made it a priority during his high school career to give back to his community in various ways. Going into the pandemic, he served his community by volunteering at the Menlo Park Veterans Memorial Home, and the Robert Wood Johnson University Hospital, giving him his first insight into the world of healthcare and inspiring his future goals of becoming a physician. Since then, he has done clinical shadowing and volunteering at Central Jersey Cardiology and conducted microbiology research at Rutgers University. He hopes to continue fostering his mindset of learning through service as he goes to college as a pre-med student.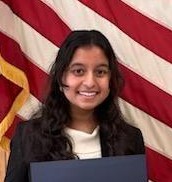 Isha Surjuse

Isha is a Mechanical Engineering student at the Edison Academy Magnet School. She plans on continuing her study of Mechanical Engineering in college, hoping to contribute to the Aerospace field. She is pursuing her interest in computer-aided design through a mentorship in Architectural CAD. In her free time, Isha enjoys reading, gardening, baking for her friends and family, and watching horror movies. She is involved in her school's Interact Club and volunteers separately as well, either with her family or for personal projects. Isha hopes to continue staying involved and supporting her community in the coming years.