Return to Headlines
Middlesex County Magnet Schools recognized with Lighthouse Award for advancing educational equity
12 September 2023 · Eshaya Draper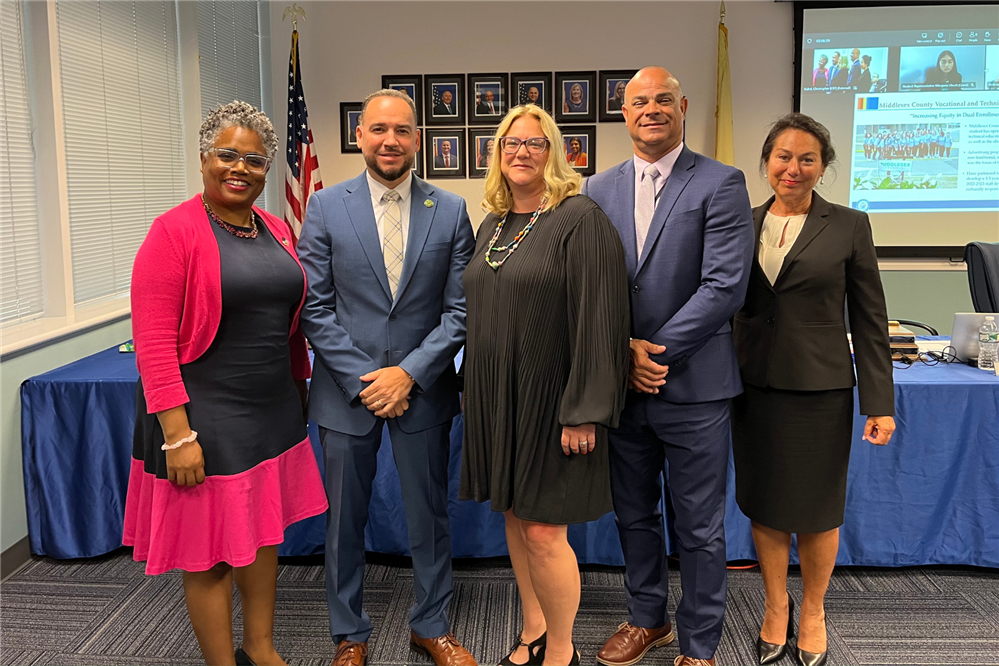 Middlesex County Magnet Schools administrators honored at the State Board of Education's September meeting. Anne Nicolas/NJCCVTS
MIDDLESEX COUNTY, NJ – The New Jersey Department of Education (NJDOE) has announced Middlesex County Magnet Schools, formerly known as the Middlesex County Vocational and Technical Schools, as one of the distinguished recipients of the state's Lighthouse Award for its exceptional strides in increasing equity in dual enrollment programming, allowing students to earn college credit while still in high school.
The Lighthouse Awards, presented by Acting Commissioner of Education Dr. Angelica Allen-McMillan at the September meeting of the State Board of Education, applauds school districts and charter schools across New Jersey that exhibit dedication to their work in illuminating a path towards equitable educational improvements for others to follow. This recognition underscores the collective efforts of all stakeholders in the educational community, including district administrators, teachers, students, parents, and community members.
"We are thrilled to be recognized by the New Jersey Department of Education for our efforts to promote equity and increase opportunities. This important work highlights our district's commitment to equitable educational outcomes for all students," said Superintendent Jorge E. Diaz.
Middlesex County Magnet Schools has worked to ensure that every student has open access to every career and technical education program across the district, as well as the choice of school they wish to attend. The district's recent rebranding has helped advertise career pathways to underrepresented, non-traditional, and marginalized populations.
"Middlesex County is one of the most diverse counties in the country – we place a high priority on diversity, equity, and inclusion in every aspect of our programs and services," said Middlesex County Commissioner Director, Ronald G. Rios. "I commend the leadership at the Middlesex County Magnet Schools for investing in the community by attracting students that are reflective of our culturally rich population and offering every resident free access to top quality, competitive education. This well-deserved industry award is a testament to the Magnet School's commitment to our residents, and we, the Board of County Commissioners, are incredibly proud of their ongoing achievements."
In August, the U.S. News & World Report announced two schools in the district ranked among the top four public high schools in New Jersey, attributing to the district's commitment to equitable improvement to education. Edison Academy Magnet School, which offers rigorous career majors in civil, electronic, and mechanical engineering, placed second in New Jersey and 39th among all public high schools nationwide.
Woodbridge Academy Magnet School, with programming focusing on health careers and biomedical sciences, was fourth in New Jersey and 65th in the nation. Students in both schools can pursue dual-degree opportunities through innovative articulation agreements with Middlesex College.
"As a resident of this great County, I've seen what access to quality education can do for a community," said Commissioner Chanelle Scott McCullum. "It is transformative. Middlesex County Magnet Schools plays a critical role in the economic success of our County and of the prosperity of a community. The future pipeline of talent that is being created and will be created at our Magnet Schools will fuel our regional economy for generations to come. Industry awards and national recognition simply reaffirm the Middlesex County Magnet School system is ahead of the curve."
The New Jersey Department of Education established the Lighthouse Award initiative in 2017 to commend and celebrate the remarkable achievements of New Jersey school districts and charter schools. These awards highlight efforts to address equity issues and improve opportunities for all students. Middlesex County Magnet Schools joins a select group of educational institutions recognized for their unwavering academic improvement in equity to support Governor Murphy's vision for a stronger, fairer New Jersey for all students.
Over the next two years of the award term, district officials from Middlesex County Magnet Schools will have the opportunity to participate in professional learning and networking opportunities between Lighthouse districts and charter schools, lead professional learning events for educators throughout the state, and provide insight to the New Jersey Department of Education through policy discussions.
About Middlesex County Magnet Schools
Established in 1914 by the Middlesex County Board of County Commissioners as the nation's first vocational and technical high school district, Middlesex County Magnet Schools fulfill an essential need for free occupational training in the State of New Jersey. The district receives high school and adult education applications from nearly 118,000 families throughout Middlesex County. Students in the district benefit from 33 distinct career program offerings on campuses situated in five local municipalities: East Brunswick, Edison, Perth Amboy, Piscataway, and Woodbridge.

Follow the district online @mcmagnetschools:
Facebook · Twitter · Instagram · LinkedIn · YouTube