College Ready. Career Ready. Life Ready.
Return to Headlines
Alumni Spotlight: Magnet School engineering grad now motivates people
2 May 2023 · Joseph Bakes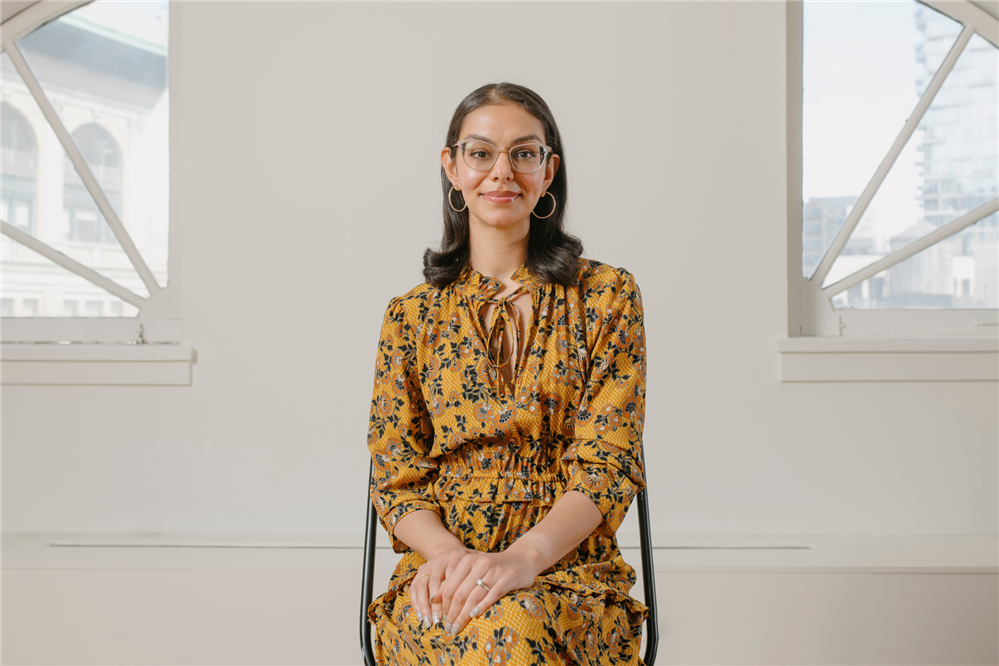 Priyanka Sabnani's study of civil and mechanical engineering at the Edison Academy Magnet School in Middlesex County Magnet Schools has led her to a career in enabling people to do their best work.
A 2012 graduate of the Edison Academy, she credits her time there with opening her eyes to the world around her. She now is director of people and organizational performance at Public.com, a platform that allows investors to buy stocks and myriad other investments, including bonds, funds and collectibles, in one place.
"What was really special about the academy was the diversity of the curriculum," she said. "It was a stark change from the traditional learning methods that students are used to up until high school … it really took you out of your comfort zone.
"I think many of my classmates can agree that we went from being top performers in our public schools to this very rigorous environment full of excellent people all around, which made it really competitive but also exciting and motivating," she said.
And it wasn't just the engineering courses that challenged her, Sabnani said.
"It was really interesting that we spent a lot of time outside in nature, especially the first couple of years when we were taking environmental science and biology," she said.
"On the opposite end, we took trips to Broadway, which I don't think I really appreciated at the time. A lot of people don't really develop an appreciation for the arts until well into adulthood, but the academy was a catalyst in exposing us to that realm early on and helping us understand it, alongside the focus that we already had on math, science and engineering."
Sabnani said the academy encouraged students to "respect the process."
"We were given a series of really complex problems across different disciplines, and the way in which we were taught to approach those problems and develop our own way of learning and solving them was really unique because there really wasn't a one-size-fits-all solution to most of the projects that we did," she said.
"It took me a while to catch on to that. I think it really prepares you for the long run. It is, in a way, the gift that keeps on giving because I'd say – on behalf of most of my class -- that I don't think we peaked in high school. Our high school experience taught us a lot of lessons that were helpful well into adulthood."
She had special praise for two of her teachers, both now retired. George Lopac, who taught civil and mechanical engineering, was "absolutely outstanding," she said.
"He would talk a lot about were the pillars of commons sense – I think about this almost every day in different aspects of my life," she said. "They've been crucial."
Those pillars were "focusing the mind," "grasping the situation," and "the power of approximation."
"I wonder if he understands the impact he had on our lives," she said.
She also appreciated Dr. William Ehrhardt, who taught chemistry and physics, subjects she did not consider to be her strengths.
"He really invested in me," she said. "He wouldn't let me slide even if I didn't want to engage."
She majored in industrial and systems engineering at Rutgers and began her career at Goldman Sachs in Manhattan, working in the compliance and consumer banking divisions before landing a role in the office of the chairman and CEO.
She moved to Public as chief of staff, reporting to the co-CEOs, before taking on her current role.
"I feel like this is a role that has been inevitable," she said, "to be a connector of people, to drive our organizational strategy, and ultimately to help our members be better investors."
"Our mission is to make the public markets work for all people," she said. "By providing access to any fractional asset – and introducing new asset classes – we're increasing opportunities for diversification among our members."
"Priyanka was one of the wonderful seniors I got to know when I started here in 2012," said Amro Mosaad, the acting principal of Edison Academy Magnet School. "She was very mature and responsible and started to show some of the leadership qualities that are evident today."
She grew up in Woodbridge and Edison, and her younger brother, Shubham, also attended the Edison Academy. She was married last year and now lives in Jersey City.
About Middlesex County Magnet Schools
Middlesex County Magnet Schools enroll approximately 2,000 high school students and more than 7,000 adults annually. Established in 1914 by the Middlesex County Board of County Commissioners, the district fulfills an essential need for free occupational training across the State of New Jersey. Students in the district attend classes on campuses situated in five Middlesex County municipalities: East Brunswick, Edison, Perth Amboy, Piscataway, and Woodbridge.

Follow the district online @mcmagnetschools:
Facebook · Twitter · Instagram · LinkedIn · YouTube