College Ready. Career Ready. Life Ready.
Return to Headlines
Superintendent Diaz Elected President of the Middlesex County Association of School Administrators
26 June 2023 · Eshaya Draper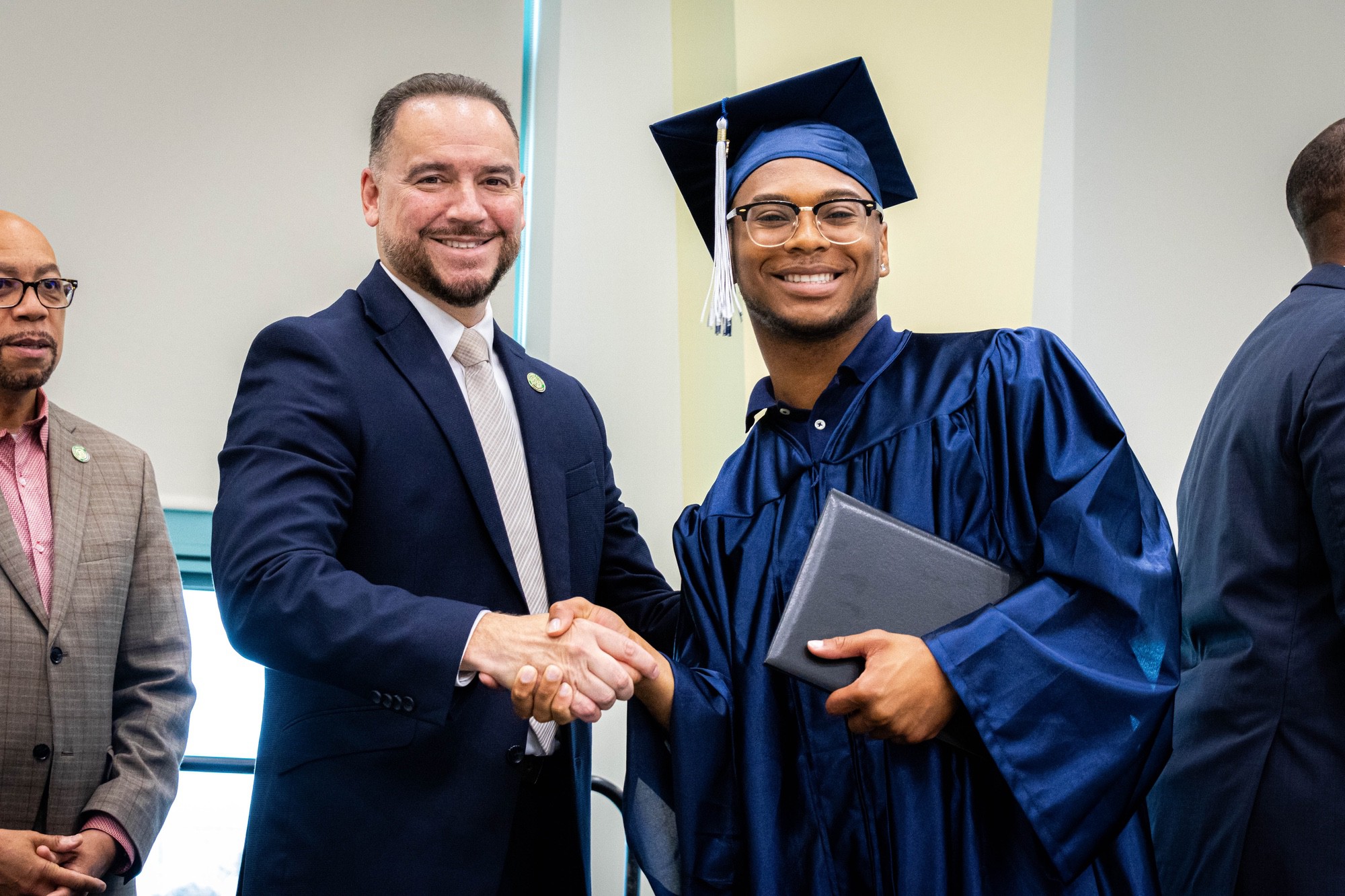 Superintendent Diaz smiles with a graduate from the Class of 2023. Isaiah Gomez/Middlesex County Magnet Schools
EAST BRUNSWICK, NJ – The Middlesex County Association of School Administrators (MCASA) has announced the election of Jorge E. Diaz, Superintendent of Middlesex County Magnet Schools. Diaz, who has led the district since April 2022, will assume responsibility for leading superintendents in the county to improve district educational practices and ensure the success of their students and communities.
With a long-standing commitment to educational excellence and a proven track record of leadership, Diaz brings a wealth of experience and vision to his new role. As an advocate for student success and community engagement, he has consistently demonstrated a deep understanding of the needs and challenges faced by educators, administrators, and learners within Middlesex County.
Diaz has served in education for over 24 years and earned the prestigious Middlesex County Superintendent of the Year recognition in 2022. His extensive knowledge of educational policy, instructional practices, and district governance will prove invaluable in providing strategic guidance and direction to MCASA. As president, Diaz will work closely with local district superintendents to foster collaboration, share best practices, and address common issues and concerns.
"I am deeply honored to accept the presidency of the Middlesex County Association of School Administrators," Diaz expressed. "Collaboration is key to our success, and I eagerly anticipate working alongside superintendents from across Middlesex County to advance excellence and suggest best practices for our schools."
Under Superintendent Diaz's educational leadership, Middlesex County Magnet Schools has notably rebranded the county schools to better represent the high-quality programming available to Middlesex County resident students, created health and wellness programs across the district, and launched an exciting new alumni engagement initiative to reconnect graduates from over four decades.
A county affiliate of the New Jersey Association of School Administrators, MCASA strengthens the statewide superintendent's association initiatives to deal with critical educational issues and provide informational programs that collectively communicate local administrators' goals and accomplishments.
About Middlesex County Magnet Schools
Middlesex County Magnet Schools enroll approximately 2,000 high school students and more than 7,000 adults annually. Established in 1914 by the Middlesex County Board of County Commissioners, the district fulfills an essential need for free occupational training across the State of New Jersey. Students in the district attend classes on campuses situated in five Middlesex County municipalities: East Brunswick, Edison, Perth Amboy, Piscataway, and Woodbridge.

Follow the district online @mcmagnetschools:
Facebook · Twitter · Instagram · LinkedIn · YouTube