College Ready. Career Ready. Life Ready.
Return to Headlines
Middlesex County Magnet Schools win awards for outstanding district communications
17 November 2023 · Eshaya Draper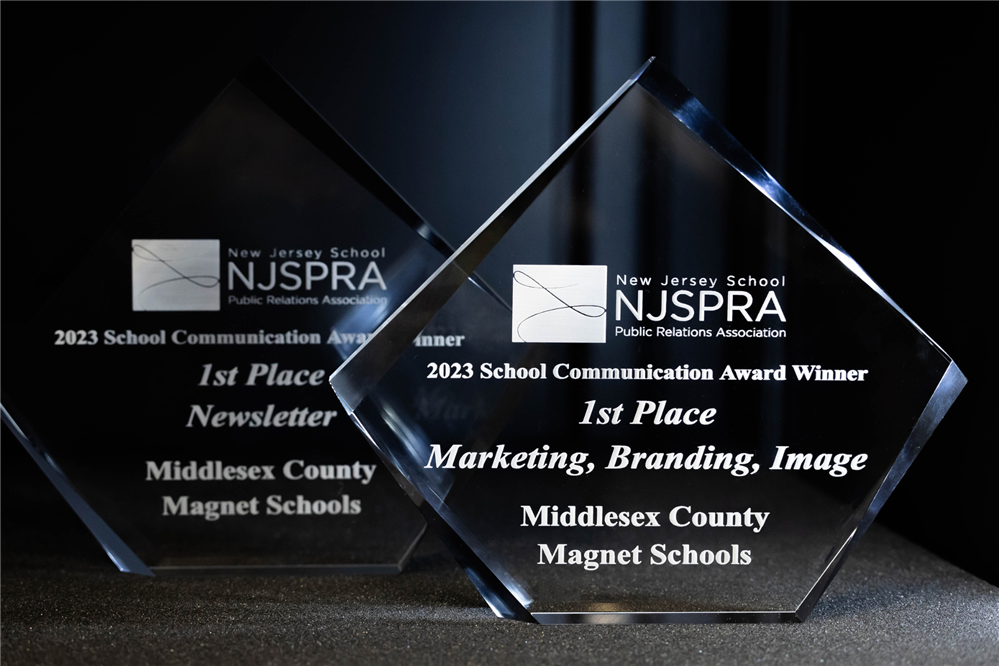 Statewide award contest recognizes school districts in New Jersey for excellence in public information and maintaining effective school communication practices. Isaiah Gomez/Middlesex County Magnet Schools
MIDDLESEX COUNTY, NJ – Middlesex County Magnet Schools have won first place in two categories in the 2023 New Jersey School Public Relations Association (NJSPRA) communication awards.
The only school district to receive two first-place honors, the Magnet Schools were recognized in the "Newsletter" and "Marketing, Branding, and Image" categories.
The quarterly newsletter, called "Insight," was initiated last year by Superintendent of Schools Jorge E. Diaz and executed by the Magnet Schools' Magnet Schools' External Affairs department.
The second award cited the rebranding undertaken by the Magnet Schools over the last year in conjunction with the Middlesex County Board of Commissioners and county administration.
"We appreciate this recognition and thank the staff involved for their hard work," Superintendent Diaz said. "It is always the goal of the Magnet Schools to provide clear and complete information to all our constituents, our students, their parents, our staff, and the people of Middlesex County."
NJSPRA developed the School Communication Awards competition to recognize school districts for managing communications and developing tools that go above and beyond in disseminating important messages to the public. Winning entries are intended to be available as best practices for other districts.
"Our Middlesex County Magnet Schools are among the best public schools in the state, in no small part due to the limitless talent of our staff," said Middlesex County Commissioner Director Ronald G. Rios. "I want to congratulate Superintendent Jorge Diaz and his team on this well-deserved recognition. Middlesex County prides itself on helping residents by providing clear and concise information, and these awards are a wonderful recognition of that."
Judges who evaluated the school's marketing and branding submission stated that the district "effectively demonstrated the application of the five-campus unified brand." Over the past year, the district's rebranding efforts for its five high schools have helped advertise career pathways to underrepresented, non-traditional, and marginalized populations.
"Congratulations to Middlesex County Magnet Schools for setting the standard for effective school communications here in New Jersey," said Paul Zeller, Director of Technology and Communication at Pascack Valley Regional High School District and president of the New Jersey School Public Relations Association.
The association's 2023 communications contest was the most competitive in the state's history, with 102 submissions from 41 school districts in different regions. The awards were judged by an esteemed panel of 14 judges from nine states, including professors from Rowan University and other industry experts nationwide.
Districts may compete for awards in eight categories: Electronic Newsletter; Marketing, Branding, and Image; Media Relations-Human Interest; Photography; Social Media; Special Interest Publication; Video; and Website.
About Middlesex County Magnet Schools
Established in 1914 by the Middlesex County Board of County Commissioners as the nation's first vocational and technical high school district, Middlesex County Magnet Schools fulfill an essential need for free occupational training in the State of New Jersey. The district welcomes high school and adult education applications from nearly 118,000 families throughout Middlesex County. Students in the district benefit from 33 distinct career program offerings on campuses situated in five local municipalities: East Brunswick, Edison, Perth Amboy, Piscataway, and Woodbridge.

Follow the district online @mcmagnetschools:
Facebook · Twitter · Instagram · LinkedIn · YouTube